DIY Ubtan: All the remedies being shared here can be used by anyone may it be boys, girls, men or women. Yes father you too qualify for this application.
Dear grandfather you too can apply this and teenage boys can also apply it. You too have pimples, you too have dark circles, You too have fine lines then why shouldn't you take advantage of all these. The Ubtan that I will be sharing today is so powerful.
Try this on your own and judge the potency of this Ubtan. You are going to be amazed.
How to prepare this ?
How to use it?
Summary

Resistance training, such as weightlifting, is a great option for losing weight. If that's not possible, cardio workouts are also effective.

Choose what's sustainable for you.
Let's check out. The magic that I will be sharing in today's blog is called "Do it yourself Ubtan". We will be preparing it using the ingredients present at your home. Which will surpass the results of the most expensive facial that you have done to date.
We are comparing DIY Ubtan to a facial. So you can understand how powerful it is. In Ayurveda, all the skin crafting remedies are called Ubtan. It nourishes your skin, cleanses your skin, rectifies all your skin issues. It provides radiance to your skin which you always wanted and do all the activities to achieve it.
If we talk about the ingredients in Ubtan. It has pulses, barks of trees, cereals, herbs, minerals, essential oils, spices. All these ingredients are crafted in different quantities to suit your skin type. If you have any issues on your skin then it can be modified accordingly. Ubtan which is a time-tested skin prescription. Before we start the preparation let's see the benefits.
Benefits:
Why should we invest our energy and time in it? The very first reason is that it can be crafted to suit any skin type. If you have oily skin, dry skin, combination skin, sensitive skin, super sensitive skin. The number of ingredients can be taken proportionately to suit your skin type and you can get the best of results.
Number 2: You don't need to be an Ayurvedic doctor to prepare this. It's a simple mix and match of ingredients and normal application.
Number 3: If you have any facial hair on your face and you have not removed them using any incorrect way. Regular usage of Ubtan will minimize them and regulate them as well. Ubtan is the safest way to remove your facial hair permanently. You have to be regular.
If you have any aging signs on your face like dullness,discoloration, fine lines, wrinkles. Ubtan will reduce them and control them as well. Again you have to be regular. It regulates this as well. Also, it is easily doable, which means it does not hit your pocket. It is consumer friendly and can be prepared using ingredients present at home.
You don't have to purchase anything specific to prepare it. These are home ingredients, mix and match and apply And you are going to be amazed, surprised, baffled and whatnot. Now I'll be sharing the method to prepare it and then how to apply it.
Ingredients: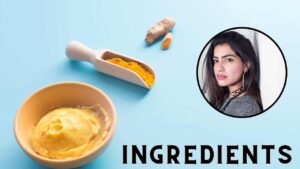 Gram flour
Green gram
Masoor dal
Oats
Fennel seeds
Sandalwood powder
Wild turmeric
Rose water/Milk/Curd
There is no better nourishment and no better cleanser for your skin other than gram flour. Gram flour can clean the dirt in the inner layers of your skin. The second  ingredient that we will be using is a powerhouse of Vitamin A and Vitamin B that is green gram.
It will rejuvenate and freshen your skin in a way that you will not feel the need to use a soap. It's a beautiful cleanser for your skin. Third powerful ingredient is to get rid of aging signs from your skin. It will give a baby pink glow to your skin which is Masoor dal.
That baby pink colored dal which on regular usage gives baby pink glow to your skin as well. Masoor dal has amazing antioxidants which will stop free radicals from damaging your skin. Most powerful ingredient that we will be using is oats.
All of you know that oats are amazing at oil absorbing. No matter how sensitive your skin is, you can use oats without any worry as it has no activity. It does not cause any issue to your skin. It removes excess oil from your skin but does not dries it. Isn't it magical?
So we will use oats here. Fifth important ingredient that you will be using is 3 big spoons full of fennel seeds. Fennel seeds have two sizes, first is the thin one that can be used for eating purposes as it's sweeter, Second is thicker one has to flavor.
You will be using three big spoons full of thicker fennel seeds. Fennel has antioxidant properties that can cure any kind of fine lines and wrinkles on your face. Many toners and many serums have fennel seeds in them. Specially they cure your fine lines and wrinkles.
So you can understand why we are using fennel seeds in Ubtan. So that your face does not have any fine lines, your skin is hydrated enough. And the suppleness in your skin is maintained. After collecting all these ingredients, let's move towards the preparation of Ubtan.
Preparation:
Take up a pan and heat it up after your pan is hot enough start adding all the ingredients into it. You will dry roast all the ingredients properly in pan. Why are we doing this? To take off all the moisture from the seeds and we get the completely dried seeds.
Why are we doing this? When we will grind it and if there is moisture then it will get decayed. We want our Ubtan to last longer and we can use it for many more days. That's why don't keep any moisture in it. For what time will we need to toss it?
Approximately 5-7 minutes. After that a slight popping sound started coming from the pulses. That was the indication that moisture content is completely gone. You can keep it for another 1 minute with the sound on. Turn your flame off after that.
After tossing it properly, let it cool down. After the seeds are completely cooled, take them in a jar and grind them properly. If your motor is not powerful enough then grind them in parts. After you grind them properly, all the seeds will be transformed into a powder.
The Ubtan you will get like flour. Absolute soft powder. It felt like Holi colours.
Now add two big spoons full of Sandalwood powder. Sandalwood powder can give the glow to your skin and also it can calm your skin down. Sandalwood powder has cooling effect so after it's application your skin will get healing energy. Add two big spoons full of wild turmeric. If you are using kitchen turmeric then only half a teaspoon full is sufficient.
Wild turmeric is magic for your skin. Turmeric has more than 300 antioxidants. Turmeric is a panacea in itself to maintain the skin wonderfully. That's why we call it Haldi ceremony and not Besan ceremony. Turmeric is that powerful thing which is being used here. Stir the mixture properly after adding Sandalwood powder and wild turmeric.
And your amazing and magical Ubtan is ready. Store it in an air-tight container, if you don't, then there will be chances that it will get destroyed. These are organic ingredients so there are high chances that they can get degraded. So either store it in an air tight container or in the refrigerator, your wish.
For the application:
Take a spoon full of Ubtan powder in a container. You can use curd, milk, water or rose water to mix it, depending upon the current state of your skin. If your skin is oily then use curd. If your skin is dry then you can either use coconut milk or water. If you have sensitive skin then use water or rose water.
If you have a combination skin, you can make a blend of any of these depending upon the skin. Mix it well and let the pulses soak in so that it takes a form of Ubtan. All the pulses will soften after you have left it for 5 minutes.
After that apply the blend on your face. Don't use brush as it's none of the imported masks, it's an Ubtan having amazing nutrients. Your skin needs the touch of your hands. Nowadays face washes are equipped with brushes. Once in a while is fine, your skin understands the touch of your hands and it loves the touch.
So please do not disregard your skin and give that nutrition to your skin with your hands. Start applying a thick layer while massaging on your skin. A thin layer of it will not work on your skin, so apply a thick layer so that the nutrients are bound for longer time. If you have fine lines then apply it properly under eyes.
Just make sure that the paste under eyes does not dries off completely. Apply the paste properly on your face and neck including undereyes, eyebrows. If you have any active acne right now, you can apply over that. It is that potent, in fact this Ubtan is a medicine for the acne.
If you have dark elbows, then you can apply it there also. Keep it applied on your face and neck for approximately 10 minutes. It will be dried completely after 10 minutes. The overlapped portion will take more time to dry. But do not let the Ubtan undereyes dry completely.
Now wash your face gently. While removing the Ubtan you will understand the suppleness in your skin. It will become so soft that you will not feel the need to apply moisturizer. This means that the pores have become completely clean as you get oil after facial, it is stronger than facial. So it is that potent.
Pat dry your skin after removing off the Ubtan from your skin. There is no chances of any deposition on your skin, it will cleanse your face in that way. Wash your face completely and enjoy your clean skin.
Answering few questions around the remedy:
Can this be used by boys?
Answer: Absolutely they can use it.
Can this be used by teens?
Answer: They can.
Can we use this for children?
Answer: You can.
Does this have any side effects?
Answer: No side effects at all.
Answer: If you have a lot of skin issues then initially you can use it daily but take a break after some time.
We do not have these pulses so can we use another one?
Answer: Collect all the ingredients first and then start the remedy. Do not hurry, do it in a relaxing manner. If you change anything, then results will also vary accordingly. Collect all the ingredients first and then start the remedy.
Do I need to moisturize my face after the application of this Ubtan?
Answer: If your skin becomes dry after the application and becomes very dry then go for it, otherwise not required.
Sandalwood doesn't suit me, can I skip it?
Answer: You can skip any of the ingredients that you are not comfortable with. The blend of remaining ingredients will be potent enough, just don't worry.
I hope that I could inspire you To invest your time and energy in the preparation of this Ubtan.
You guys remain happy and you get amazing results. If you liked the blog then do not forget to give it a thumbs up.
For health-related videos, check our video section or our youtube channel Health city
[/vc_column_text][/vc_column][/vc_row]
for more health topics, check our other
blogs.
====My Social Media Links====