Undoubtedly, cervical spondylosis has become one of the common problems among the different age groups. It has an effect on the spinal disk in your neck. Over time, this becomes the worst problem for the masses. Additionally, the majority of the masses who are older than 60 suffer from this problem. 
Symptoms
Now the question is how to recognize that either we have this problem or not? In the majority of the cases, usually, masses do not experience any symptoms in the Cervical. Apart from that, the most common symptom is pain and neck stiffness. To check this, you must know these symptoms. 
Additionally, you may also face the following things in cervical spondylosis :
Tingling, weakness, and numbness in your hand, legs, feet, or arms. 
Loss of bladder control 
May experience difficulty in walking
Headaches 
Dizziness 
Nagging soreness in the neck
Muscle spasms
If you experience any of the symptoms of cervical spondylosis mentioned earlier, you require medical attention. 
Causes of Cervical Spondylosis 
Over time, when you get older, your spine comes under the changes because of normal common wear and tear. Additionally, here come the changes:
Degeneration 
Herniation 
Osteoarthritis 
Bone spurs 
Apart from it, there are various exercises which help you in getting rid of cervical spondylosis . For the below-mentioned exercises, you do not require any heavy equipment. All you need to do is, perform this exercise regularly. So, let's discuss those exercises:
Exercise-1 
It is a sitting exercise which you need to form. After that, keep your hands straight in the position which is shown in the picture. The distance between the hands is equal to the shoulder gap. 
Take a long breath, then touch your finger with your palm. If you cannot raise your hands, keep them on the joint and then perform the exercise. Do these exercises as per your comfort and capability.
Exercise-2
In the second exercise, your hand should be starting horizontally. Further, try to touch your shoulder with the hands. Do this exercise as much as you can. After that, change your hand's position, which means, straight your hand as you did in the first exercise. Next, you need to touch your shoulder with your hands. Be comfortable while doing this exercise.
Exercise-3 
In this exercise, you need to change the position of your hands. Keep your hands straight in the upward position. Further, do the same steps that you performed in exercise two. It means to touch your shoulder with your thumb. There is no limit to the exercise. Perform it as per your comfort. 
Exercise-4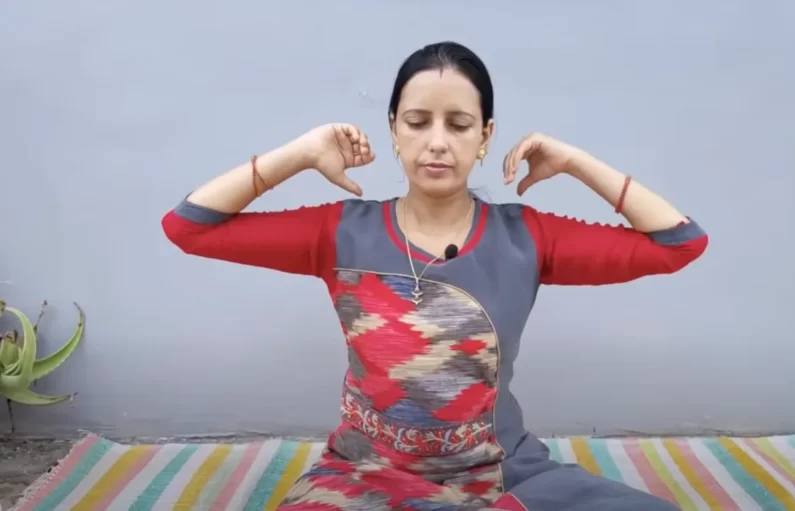 Keep your hand on the shoulder. After that, move your hand in the inward direction. Perform it as per your capability. Additionally, change the direction; now, you will have to move your hand in the anticlockwise direction. You will get relief from this exercise for sure. 
Exercise-5 
In this exercise, take your hands behind the head. Close your hands with each other. Further, stretch the hand behind as much as you can. After doing this exercise, move your shoulder in a circular way or round. Along with it, you have to rotate your hand on the knees too. Further, do the same step in the anti-clock direction. 
Exercise-6 
Close your hands as shown in the picture. After that, within the same position, take both hands in an upward direction. Further, stretch your hands in such a way that someone is pulling you from the back. Do this exercise four to five times. 
Exercise -7
In this exercise of cervical spondylosis, sit straight and move your neck first in the right direction. After that, move your neck in the left direction and upward direction. You will get plenty of relief from doing this exercise. Further, bend your neck in a downward direction, not too much. 
In the end, these are some exercises you need to follow to get rid of the problem of  cervical spondylosis . If you can do this exercises twice every day your body will become fit within no time. 
To become healthy, check our other blogs or our youtube channel Healthcity
====My Social Media Links====